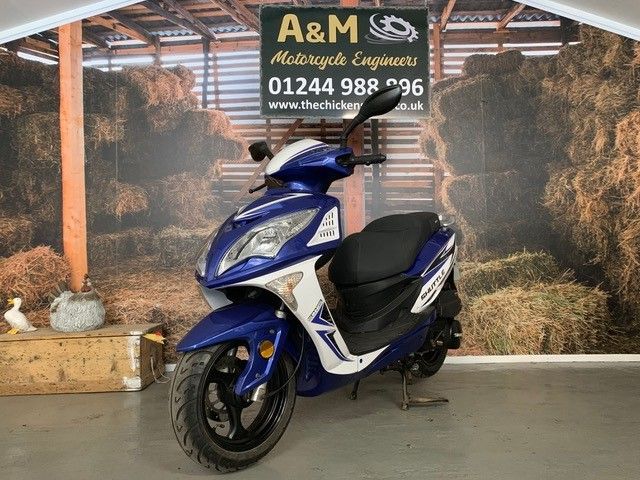 01/12/2020 by A & M Motorcycle Engineers 0 Comments
Our Top Three Tips for Looking after Your Motorbike This Winter
As you start to reminisce about the summer afternoons you spent on your motorcycle, it may be time to spare a thought for how you'll care for your pride and joy during these colder months. More susceptible to cold-related issues that their four-wheeled counterparts, a motorcycle needs the right care to ensure that it can function perfectly all year round.

Read on through our blog to see the advice we've provided.
1. Check the Vital Parts!

Regularly checking over your motorcycle is vital if you want to keep it working perfectly. A mixture of fewer rides out, frost, and sudden changes in temperature can spell trouble for your vehicle.

First, make sure that you regularly check the battery of your bike. With lower levels of sunlight for less of the day, you're going to be using the lights and bar warmers much more. This can cause your battery level to dip and it can leave you stuck if you're unlucky. Check the voltage against your vehicle handbook to make sure that it's holding a good level of charge!

Next, you want to look at the tyres, chain, and other moving parts. Tyres can drop in pressure when temperatures plummet, so making sure that they're ready for your next ride is vital in terms of safety. Your chain should be well lubricated at all times and this is achieved by cleaning and applying lubricant after every ride. There are also devices that can do this automatically for you! Other moving parts can be affected by moisture, salt, and dirt, so checking over everything regularly can give you peace of mind and increased safety.

2. Consider an Oil and Filter Change

We're already well into winter, but booking in an oil and filter change before the really cold temperatures come is always advisable. Cold mornings can put extra strain on the engine, so having fresh, good-quality engine oil is vital if you want your bike and all its parts to function perfectly.

Your trusted mechanics will be only too happy to do this for you and our team are on hand for all your needs.

3. Be Smart with Storage

With people spending much more time at home, space can be at a premium. However, the best place for your bike to be is indoors. Some people have garages or utility spaces that are ideal for this purpose and there are major benefits from keeping a solid barrier between your bike and the elements. By not exposing your bike and its parts to the cold snap, your battery and components have a better chance of being unaffected by the temperature change.

We know that not everyone has this space, so a great alternative is a high-quality bike cover. These can be an expensive outlay, but the money that you'll save in comparison to repairs and maintenance work mean that it'll pay for itself!

Want to Know More?

If you want to know more about our range of services, get in touch today! We can't wait to talk with you about the services we provide to motorbike riders in the local area.
Feed