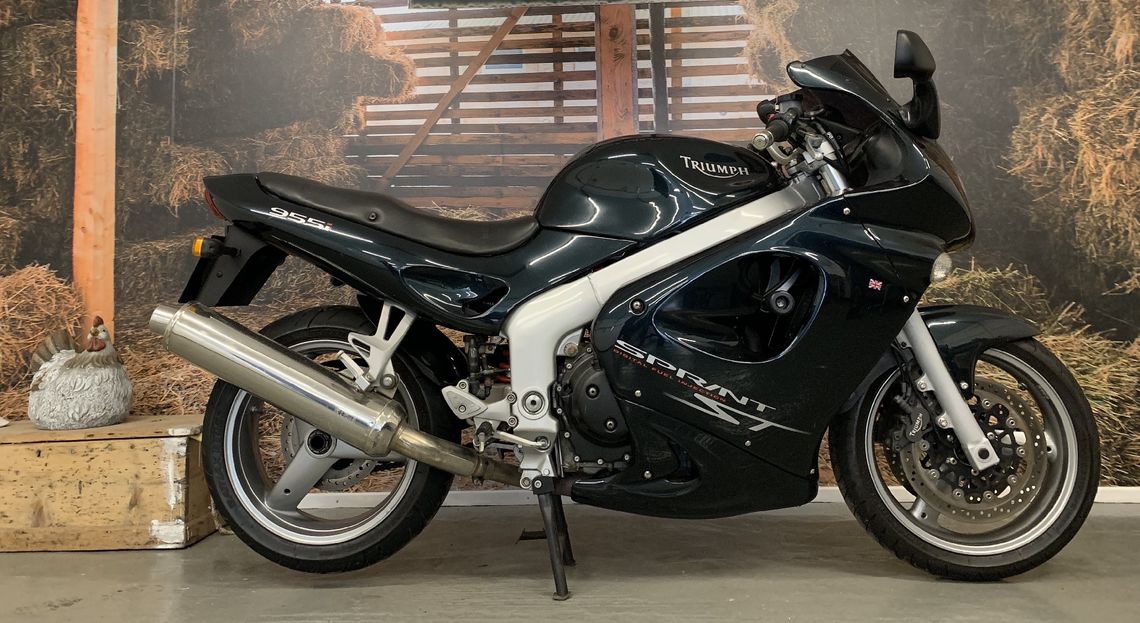 28/04/2021 by A&M Motorcycle Engineers 0 Comments
Motorbike MOT: What Is Checked?
All motorists are required to have a MOT certificate to be able to drive throughout the country. But first things first, why are annual MOT tests required? As per the law, every vehicle in the UK (whether it be a truck, car, or motorbike) is subject to an annual MOT test.

Every year, motorists have to leave their vehicles at a test centre or garage and hope they won't be paying for big repairs. This is why the annual test process may seem daunting for some. It's understandable for motorists to worry about the added costs of repairs.

Here, we'll provide a thorough guide on what is involved during a motorcycle test and the common test failures that you can avoid as a motorist. Read on.
Why do I need to get a yearly motorbike test?
In case you're wondering, MOT is an acronym for the Ministry of Transport, which was the government department responsible for the roads when the first annual vehicle test was introduced in the year 1960. At that time, the yearly test was only a mandatory requirement for cars over ten years old.


Over the years, the list of pre-test checks has been expanded. Today, these annual tests are conducted to check the safety, roadworthiness, and exhaust emissions of vehicles (whether it be a lorry, truck, private car, or motorbike). The test is done to help prevent individuals from driving vehicles that have a potentially dangerous fault.

So, the test is basically for your road safety. It helps you be aware of the issues that may lead to bigger problems down the road. By taking the test, you are ensuring your safety and the safety of every other motorist on the road.
Class 1 and Class 2 MOT
Here is a guide to help you understand what MOT class you need.

Class 1
This test covers smaller engine mopeds and motorcycle vehicles (including those with engine size up to 200cc).

Class 2
This test covers the more powerful road bikes, including motorcycles with engines over 200cc.

Motorbike Test Checklist
Once your bike reaches 3 years old, you must get it tested once every year. You can renew your certificate for up to a month before it expires. On the pass certificate, you can see the earliest date you can get your bike tested.


During the annual test, expect a thorough check of all the components of your bike. This is to ensure that your motorcycle is roadworthy. If your bike fails the test, this is because it would be unsafe for you or other motorists if you were to ride the bike on public roads.

Below are some of the most important components of your motorbike that will be checked:
Lights and Headlamps
Sidelights, headlamp, rear light, indicators, reflectors, and rear-registration-plate light – these are all checked during the annual test to ensure they work. A tester will look at each one of them to see if they're fitted with the correct colour headlamps (which you can check before the test date to ensure they are in good working condition). The direction, brightness, and the position of the beam are all tested.


Bear in mind that the aim of the headlamps should be correct otherwise, the tester will automatically mark it down as a MOT failure. The flash frequency of indicator lights should be at 60 to 120 times per minute. Make sure to test all these things before bringing in your bike for its annual test.

Note on indicators:
⦁ While some motorcycles need indicators, not all them do.
⦁ Motorbikes that do not have front and rear position lamps, have top speeds of 30mph only, and were first used before 1 August 1986 do not need direction indicators.
⦁ Off-road bikes designed to carry only the rider or the rider and one passenger in a side-car do not need these indicators.
⦁ A moped is also not required to be fitted with indicator lights.
Braking System
Apart from the lights and headlamps components, the tester also checks every component of a bike's braking system, including the following:


⦁ cables;
⦁ rods;
⦁ levers and linkages;
⦁ discs and drums;
⦁ flexible brake hoses;
⦁ linings and pads;
⦁ rigid brake pipes;
⦁ callipers and cylinders;
⦁ brake fluid; and
⦁ lever and pedal.

After checking these component parts, the tester will then put the operation and performance of the braking system to the test. Before bringing in your motorbike for a test, you have to ensure that the brakes themselves are operational and perform as expected. Make sure to check that the brake pads are not worn.

Also, you can test the brakes yourself. Apply the brakes and make sure the wheels can rotate freely when you release the brake.
Steering and Suspension System
The tester will also make checks on the bike's steering and suspension system. The condition, security, and operation of all parts will be checked. These parts include the handlebars and grips; suspension pins, bushes, joints, arms, and rods; springs and shock absorbers; and fork and fork yoke.


You can check if the steering and suspension system is working by doing the following:

⦁ raising the front wheel off the ground;
⦁ moving the handlebars from lock to lock to ensure they turn freely;
⦁ grabbing the forks at the bottom and attempting to push and pull on them (any movement could suggest play in the head bearing);
⦁ moving to the rear and bouncing the bike (this ensures the suspension is working as expected); and
⦁ grabbing each swing arm end and moving it around.

If the swing arm end moves, this could mean that its bearings are on the way out. If you notice any difference in the handling of your bike, it is highly advised that you get things ironed out prior to the annual test.
Exhaust System
Next, we have the exhaust system. The tester will check that it is complete and secure. The motorbike's system must work within permitted noise levels.

Fuel System
The motorcycle's fuel system will also be checked for security. Its fuel pipe or hose should not be chafing or show any signs of damage. The tester will inspect the filler cap to see if it is not missing and leaking.

Wheels and Tyres
During its annual test, the motorbike's wheels and tyres will be looked at. The tester will check whether the right size or type has been fitted securely and correctly to the bike. The tread depth of the tyres, nuts, bolts, studs, spindles and hubs will be examined.


For a moped, there is no minimum tread depth. Motorbikes over 50cc will need at least 1mm of tread across ¾ of the width of the tread pattern, with correct alignment between the front and rear wheels. The tester will also check if there are any signs of corrosion, distortion, or damage. He will also check the condition of the valves.
Wheel Alignment
Another important part of a motorbike's safety is its wheel alignment. Make sure to check your motorbike's wheel alignment prior to its MOT test. The tester will check that the front and back wheels are aligned correctly.

Seats
The tester will check that there is a proper and secure rider's seat on the motorbike. There should also be an adequate supporting structure. If your motorbike has a pillion seat, the tester will inspect it as well.

Frame
The motorbike's frame will also be checked on its annual test. The tester will check if it is free from any cracks, damage, distortion, or corrosion. This is to make sure that the motorbike is not suffering from any conditions that could affect its steering or braking system. If the structural integrity of the motorbike is compromised, it will most likely fail its annual test.


If there is a sidecar, the load-bearing frame (including the sidecar frame) and attachment brakes will also come under scrutiny. The engine mountings are also checked on motorbikes where the engine is used as a stressed part of the structure.

Note on sidecars:
⦁ Where applicable, the tester will check the security of its attachment and alignment to the bike.
⦁ Other important components that will be checked include the suspension, wheel bearings, lights, tyres, and wheel alignment of the sidecar.
Drive Chain and Sprocket
During its annual test, the tester will also make checks on the motorbike's chain. It should not be too tight or too loose. The tester will also check if it isn't worn.


The chain guard should be securely fixed and the sprockets should not be excessively worn. While a chain guard is generally not tested on a moped, the absence of it might be considered a potentially dangerous fault. This could lead to a failed test.
Clutch Lever
In addition to the drive chain and sprocket, the tester will also check the clutch lever. It should be functional and easily operated. A bent or badly positioned clutch lever is likely to yield a test failure.

Throttle and Footrests
The tester will also examine the throttle to ensure that it's working properly. He will also check the footrests if they are in good working condition. They should not be missing on the bike.

Horn
Another important component that will be checked is the horn. It should be loud enough for other road users to hear. The motorbike's audible warning should also be compliant with requirements. If your motorbike's horn is not working properly prior to its annual test, it's worth getting it repaired first.

Vehicle Identification
The tester will check the motorbike's vehicle identification and frame numbers for legibility and legitimacy. Before bringing in your motorbike for its annual test, make sure that its registration plates are clear, securely attached, and presented in an acceptable format. If you own a moped, only a registration plate is required on its rear.

Top 6 Most Common Motorbike MOT Failures
Based on statistics, 33.6% of cars and other passenger vehicles fail their initial test. For goods vehicles, 42.2% of them fail their test annually. As for motorbikes, 16.9% of them fail.


While cars and passenger vehicles have the highest percentage of failures, 16.9% is still something one should not look past. For motorbikes alone, most of the failures are actually very easy to fix. Let's take a look at the most common motorbike test failures below:
1. Lights
Lights are the most common reason for initial test failures, with 10% of lodged annual failures attributed to lights. To put that into perspective, 1 in every 10 motorbikes fails the test every year. This could be due to an indicator that doesn't work, a sidelight that went pop, a brake light that's out, or a badly adjusted headlight.

2. Braking System
It's a surprise that 5.5% of failures are due to braking systems. Badly scratched discs, worn pads, or warped discs – any of these is enough reason to fail the test.

3. Steering and Suspension System
Another surprise – 4.55% of motorbikes fail their annual test due to their steering and suspension system not meeting the requirements. This could be as simple as a stiff headstock. Badly leaking fork seals, worn bearings, cracked or rusty rear suspension springs – these are the most common reasons why a tester will give a failed mark.

4. Tyres
Annually, about 3.5% of motorbike failures are due to tyres. The tester will fail the motorbike if the tyres are not at the right speed rating. Testers will also fail motorbikes with tyres that are rubbing on another part or not correctly fitted, and have a cut, nick, or bulge in the rubber.

5. Number Plate
Motorbikes that have a non-standard size number plate also fail their test. Of the other motorbike failures, it is estimated that 1.5% of motorbikes fail the check. This means that the number on the frame does not match the number on the logbook.

6. Fuel and Exhaust System
While 1.25% is a remarkably low number, this is not something that we should ignore. The fuel and exhaust systems are the most important parts of any motorbike. It is only right for motorbike owners to ensure that these parts are in great condition.

Book a Motorbike MOT Today
Ready to get your motorbike tested? Turn to A&M Motorcycle Engineers. We are a bike MOT testing station in Chester handling Class 1 and Class 2 MOTs. Our friendly team also handles repairs, servicing, and insurance work, among others.

Feed